ABOUT
COMPANY
GAME Limited's GAME stands for Global Asset Management Enterprise (global asset management company). It also represents the general meaning of "game" in dictionaries.
Introduction
Game Limited is a startup company that provides various softwares and security systems on the international markets. In order to develop the best softwares in the AI field, we work together with users and clients. We have developed a number of softwares such as Metigy, Astro, H20, Braina, and Affective. We have pioneered large markets in Southeast Asia and now promote our products in the Far East (Northeast Asia, East Asia) and beyond. The Japanese market in particular we will focus on in the future.
Company History
GAME Limited (commonly known as GAME) was founded in Saint Vincent and the Grenadines in 2017.
Saint Vincent is a fertile volcano island in the Caribbean Windward Islands, known for filming the movie Pirates of the Caribbean.
Location
Our research/development is located in the Philippines where the economic growth rate is the highest in Asia, and there are so many young and gifted IT technicians available. In the social networkings are very advanced. Data show that 93% of internet users are Facebook users. We believe that the Philippines are the best location to recruit our technician for the blockchain development.
Mission Statement
We have been involved in various internet business projects such as website development until now. We are now ongoing to start the Snowball coin project. Our mission is to make every owner of the Snowball coin happy. Everyone establishes the snowball life and enriches their mind and body. This is our goal.
In order to improve quality of life, we will engage in all kinds of business that is related to living, such as entertainment business, sales, money transaction, and online gaming. We created our company so that you would lead a pleasant and enjoyable life with your family.
What is
"Snow Ball Project"
We as a business operator establish the Snowball project, aiming to snowball(=continuously increase) the assets of members who invest in the project.The Snowball is a new crypto currency that we will produce, basing on Ethereum.
The snowball project will distribute this new crypto currency all over the world and raise its value hundreds of times. As a result, all our investors will build up great assets and attain true wealth.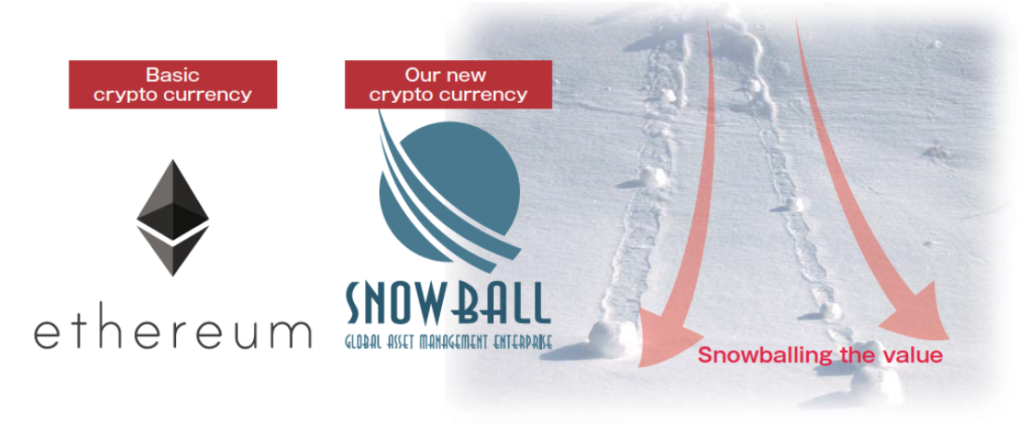 What is
"the Snowball Coin?"
The Snowball coin is a token that we will issue, basing on Ethereum. It will a crypto currency that can be used for all kinds of entertainment.To be specific, we plan to make the Snowball coin usable for online games, shopping, travel, concerts, events, sports watching, and asset management.
About Crypto Currencies
A crypto currency is based on the cryptographic technology for security measures. It is also called "record value" or "virtual currency." There are more than a thousand kinds of crypto currencies all over the world. bitcoin is the most common and distributed crypto currency. Most crypto currencies are originated from bitcoin, adopting a basic structure called "the blockchain." Crypto currencies other than bitcoin are named "alto-coin" as alternative coin. As of January 2018, the volume of bitcoin circulation reached 256.4 billion US dollars. It is larger than Indian rupee, which has been fifth in the world of statutory currency. Other crypto currencies. Ripple and Eriaryam also entered the top ten, exceeding the Swiss franc.
About Ethereum
Among many alto-coins, Ethereum is catching eyes in the exchange market. The platform was invented by Mr. Vitalik Buterin in 2013. The world's largest crypto currency exchange, QUOINEX, predicts that 2018 is the year of thereum, if 2017 was the year of bitcoin.
The Price of Ethereum
In September 2014, Ethereum started for pre-sale at 2000ETH = 1 BTC/bitcoin (1 ETH = 0.0005 BTC). At that time 1 BTC was about 200 to 400 US dollars, so 1 ETH was worth about 0.1 to 0.2 US dollars. After the official release, 1 ETH marked 0.008 BTC the highest on July 30, 2015, increasing the value about 16 times more than the initial price. The price continued to rise after that, and in January 2017 it became about 900 US dollars.
Then the price climbed up sharply again from the spring of 2017. As of January 2018, 1 ETH is about 0.059 BTC that is 118 times more than the initial value in bitcoin. After all Ethereum is worth over 1,000 US dollars, which is 5,000 times higher than the presale price.
About Smart Contract
Ethereum has built name recognition and increased the market capitalization in recent years because it has an algorithm that solved the weak point of bitcoin. Ethereum has a revolutionary system called "Smart Contract" that bitcoin doesn't have. Smart Contract is a technology that automatically executes programs on the blockchain. While bitcoin records only the "transaction information — who sent the bitcoin to whom" on the blockchain, Ethereum with Smart Contract can record "contract information — If A do such and such, then A can do this and that." This enables a contract execution that does not require an intermediary. Knowing this function, investors and large companies expect Ethereum to create new ways of business transactions.
Possibility of Ethereum
"Ethereum is a world computer"

About 30 of major European and American companies created an organization called the EEA (Enterprise Ethereum Alliance). EEA's website tells that the members are small companies specializing in technology development related to the blockchain such as ConsenSys and BlockApps, as well as big enterprises such as Microsoft and Intel from the IT industry, JPMorgan and UBS from the financial industry.
As of January 2018, more than 500 companies and engineers are participating. Fubon from China, Toyota and Bank of Tokyo-Mitsubishi UFJ from Japan, and SAMSUNG from Korea are members.
Why so many companies study Ethereum?
The reason is in "DApps" software. Dapps is an abbreviation for Decentralized Applications, which is a de-centralized market application. The official website of Ethereum shows that more than 800 types of DApps have already been released.
By downloading these applications and tweak them in the optimum environment, anyone can take advantage of the Dapps software. These applications also enable programmers to master the programming language "Solidity" of Smart Contract in a few hours and to create a new "token." Availability of ample resources such as code samples and development frameworks is another reason for companies and engineers to delve into Ethereum.
Ethereum Utilization
Steven Nirayoff, co-developer of Ethereum, states in an interview with CNBC, "The number of projects based on Ethereum is increasing exponentially and having billions of dollars pour into the Ethereum platform today.
The number of such projects in 2017 doubled from 2016, and I expect this year's projects to be 10 times more than 2017." As he says, projects that make use of the Ethereum platform are underway in many industries.
The followings are examples:
The utilization of Ethereum is being considered in various industries. Each company of the EEA undertakes an Ethereum project not for investment, but for their own business purposes. Steven Nerayoff talks about that: "The lower the transfer fees are, the more business owners and administrators use the Ethereum network and increase the operational efficiency. We predict that the much more Ethereum projects will start and get programmers involved than they do now."
The size of the entire crypto currency market is also expanding. As people get interested in it, Ethereum will attract more investors than bitcoin does even though bitcoins in not diminishing the investing value."
In fact, training programs for the Ethereum blockchain have participants from 96 countries, that show Ethereum is studied by programmers all over the world.
About Cloud Sales
A business operator buids up the fund and manages it by trading the crypto currency in the exchange market. It is more attractive than the IPO (newly opened stock) that has been the mainstream in the past because Cloud sales is easier to do.
As the operator promotes the crypto currency with the earned funds, the value of the currency will rise according to the amount of the circulation. Once the currency reaches a certain amount in circulation, it's listed on the crypto currency exchange and becomes available for general trading. At this point, investors who purchased the tokens through the Cloud sales can also exchange to another currency or continue holding it for further value increment.
According to the Autonomous Research data, the funds collected by Cloud sales in 2017 amounted 4.27 billion US dollars. Approximately a quarter of the Cloud sales revenue was spent for startup companies that specialized in the development ore technologies such as new decentralized ledgers.
Regarding companies related to the blockchain technology, the Cloud sales revenue exceeds the venture capital revenue. In terms of the amount of revenue per project, some projects collected more than 200 million US dollars.
About ERC20
ERC 20 is a standard specification for issuing tokens on the blockchain of Ethernet. If your token is compliant with ERC 20, you can exchange for countless kinds of tokens in ERC20. ERC stands for "Ethereum Request for Comment," and ERC 20 is a 20th requested framework.
The ICO token is a digital currency, and it is not tangiable like paper money. investors who purchased tokens through the ICO need a "special wallet" to manage the ICO tokens. This is because there are various kinds of tokens based on different technologies with various programming language; therefore each kind of token requires a specific wallet.
Thus, wallets for Ethereum are not compatible with a wallet for bitcoin.
A wallet for Ethereum can keep any kinds of tokens that are compliant with ERC 20. This advantage of Ethereum results in an increasing number of ICO tokens based on ERC 20.
AI (Artificial Intelligence) Trading
AI trading is a trading that artificial intelligence makes decisions on buying and selling. In the stock and forex world, computers have been dealing with the markets around the clock by using trading logic's for highly profitable winning rates.
Online Game
An online game means a computer game using the online Network, it is sometimes called "Onge," "Net Game," "Netoge." In the past online games were produced to be installed in personal computers in general.
Relationship between Online Games and the Snowball Coin
We will develop original online games and make the Snowball coins usable for the games. While producing original games, we will aggressively establish partnerships with other online game companies. The more games you can play using the Snowball coin, the more its value increases.
Blockchain
We plan to specialize in the blockchain technology and develop softwares and security systems for online games. Our target is not limited to online casinos, but includes the entire online gaming market in the Far East Asian regions.
Portfolio Mining
In search of the most profitable mining pool, we constantly analyze the crypto currency markets and calculate hash rates such as ASIC, GPU, and CPU. We believe that the portfolio type mining, which targets the maximum ROI, will raise the value of the Snowball coin.
Marketing
Our main marketing methods consist of the internet marketers and agency networks. Commissions to agents and internet marketers will be paid by Loyal Bank's ISP or CPS system, or wire transfer if applicable. Commissions are determined on sales.
Online Game Industry
We believe that the Snowball coin will greatly contribute to developing online games by which players create communities. We will cooperate with major online game manufacturers and integrate the Snowball coin the game. The more we are involved in game production.
Other Business Plan
We will be involved in various business related to daily life such as entertainment,retail, and money transfer. We aim to improve the quality of life of the Snowball coin owners.
Establishing Online Shopping Malls and Transaction Service for Retail Stores
Establishing Online Shopping Malls and Transaction Service for Retail Stores We will set up online shopping malls that you can enjoy shopping with the Snowball coins. You will be able to purchase all kinds of products such as, home appliances, kitchen items, stationery, audio/visual equipment, personal computers and related products, books, music, and software.
This new digital coin is highly recommended for all online users. It's very simple and easy to use.
Abel Tobiaso President / CEO
This is very interesting and amazing kind of cryptocurrency. They can used for online games, online casino and can purchase online.
Rick Aldrin Colar Project Technical Head
The Snowball coins is not treated as securities in any country or region. This white paper is neither a solicitation of investment, nora sales proposal for securities in any country or region.
We recommend any individuals and institutions that are interested in purchasing the Snowball coin to take careful consideration about costs, risks, and other demerits and to consult with the experts if necessary. If you do not accept the risks in the Snowball coin described in this white paper, refrain from purchasing the Snowball coin. Please note that the Snowball coin is not refundable at the price of the coin purchased.
Risks
Purchasing the Snowball coin involves risks. Please thoroughly consider the risks listed below before purchasing.